For prior parts in this ongoing archive, see:
Specimen 39P: Statement on education, al-Hajr al-Aswad, south Damascus (late August 2017)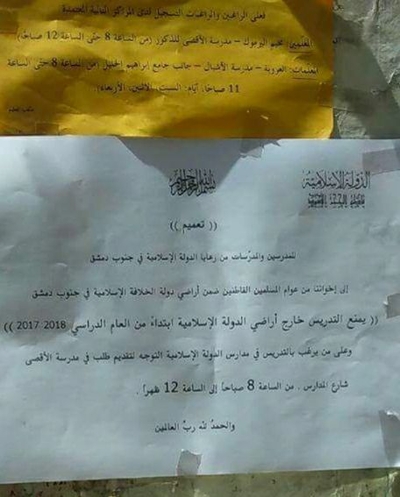 Islamic State
al-Hajr al-Aswad area
In the name of God, the Compassionate, the Merciful
Statement for distribution
To the male and female teachers from the citizens of the Islamic State in south Damascus
To our brothers from the Muslim populace dwelling within the lands of the state of the Islamic Caliphate in south Damascus:
It is forbidden to teach outside the lands of the Islamic State beginning from academic year 2017-2018.
The one who wishes to teach in the schools of the Islamic State should go and submit a request in the al-Aqsa school on al-Madaris street from 8 a.m. to 12 p.m.
And praise be to God the Lord of the Worlds.
Specimen 39Q: Summons request, Manbij area (2013)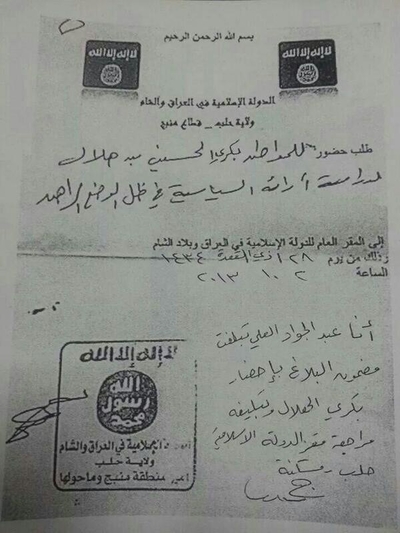 In the name of God, the Compassionate, the Merciful
Islamic State in Iraq and al-Sham
Wilayat Halab_Manbij area
The citizen Bakri al-Hussein Abd Hilal is requested to attend the general base for the Islamic State in Iraq and Bilad al-Sham, in order to get to know his political opinions in the situation of crisis, on 28 Dhu al-Q'ida 1434 AH/3 October 2013 CE.
I- Abd al-Jawad al-Ali- have been informed about the contents of this notification in bringing Bakri al-Hilal and informing him to go to the Islamic State's base in Aleppo-Maskanah.
Islamic State in Iraq and al-Sham
Wilayat Halab
Amir of the Manbij area and its environs
Specimen 39R: Medical exam for students registered for year of study 1438 AH, Ninawa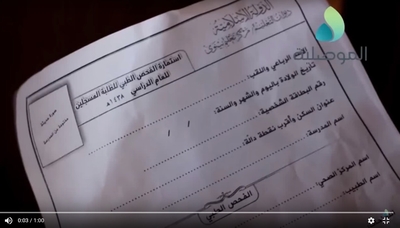 Specimen 39S: Request for books from Diwan al-Ta'aleem, Ninawa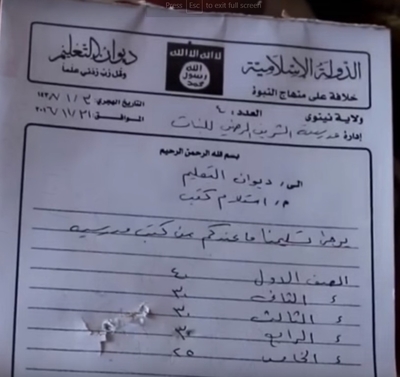 Islamic State
Caliphate on the Prophetic Methodology
Diwan al-Ta'aleem
And say: My Lord, increase me in knowledge
Wilayat Ninawa
No. 4
Hijri date: 3 Muharram 1438 AH, corresponding to 31 November 2016 CE [sic]
Admin of the al-Sharif al-Radi school for girls
In the name of God, the Compassionate, the Merciful
To: Diwan al-Ta'aleem
Subject: Receiving books
We ask you to hand us what you have from school books:
Grade 1: 40
Grade 2: 30
Grade 3: 30
Grade 4: 30
Grade 5: 25
Specimen 39T: Application form for employment in schools of Islamic State, Ninawa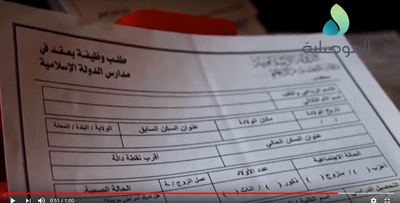 Specimen 39U: Recruitment call, military manufacturing and development (2015)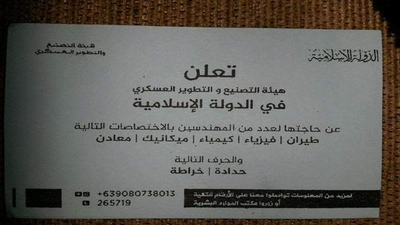 Islamic State
Military manufacturing and development committee
The military manufacturing and development committee in the Islamic State announces its need for a number of engineers in the following specialities:
aviation/physics/chemistry/mechanics/minerals
And the following crafts:
smithing/turning
For more information connect on the following numbers or visit the human resources office:
+639080738013
265719
Specimen 39V: Recruitment exhortation (companion to 39U)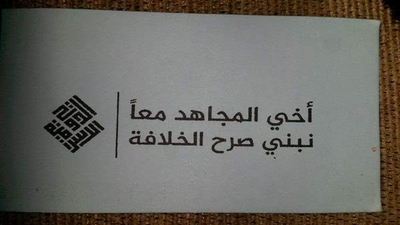 Mujahid brother, together we build the structure of the Caliphate
Specimen 39W: Recruitment for teachers, eastern Raqqa province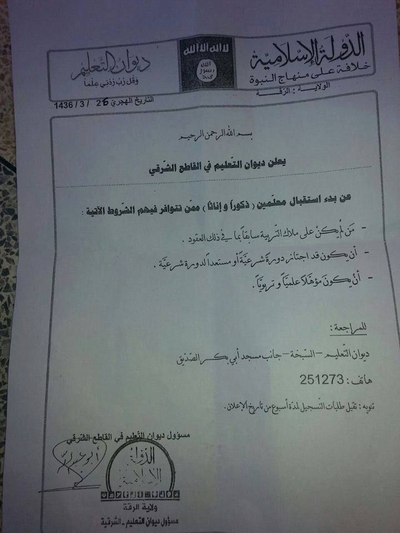 Islamic State
Caliphate on the Prophetic Methodology
Diwan al-Ta'aleem
And say: Lord, increase me in knowledge
Wilayat al-Raqqa
Hijri date: 26 Rabi' al-Awal 1436 AH
In the name of God, the Compassionate, the Merciful
The Diwan al-Ta'aleem in the eastern sector announces the beginning of accepting teachers (male and female) from those who meet the following conditions:
– Not on the malak al-tarbiya previously [cf. here], even if just in contracts
– Passed a Shari'i course or prepared for a Shari'i course
– Be qualified in knowledge and education
To apply:
– Diwan al-Ta'aleem, al-Subkha, by the Abu Bakr al-Sidiq mosque
– Phone: 251273
Note: applications will be accepted for a week from the date of this announcement
Diwan al-Ta'aleem official in the eastern sector
Islamic State
Wilayat al-Raqqa
Diwan al-Ta'aleem official: eastern area
Specimen 39X: Personal affairs ID card, western Raqqa province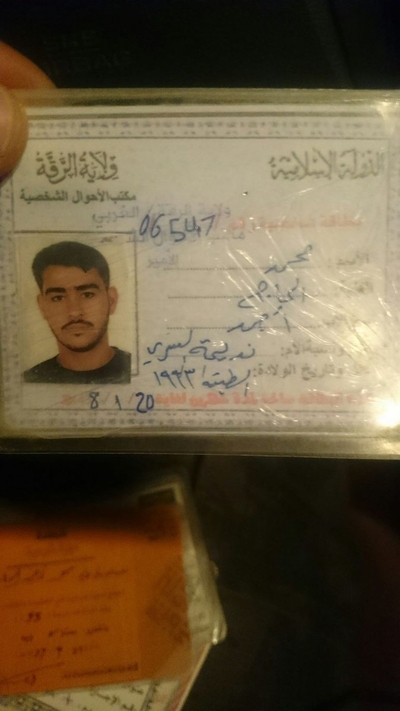 Specimen 39Y: Diwan al-Jund card for Abu Ali al-Turki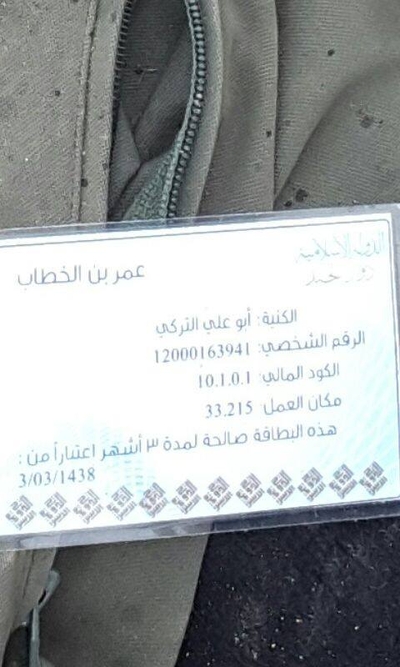 Islamic State
Diwan al-Jund
Omar bin al-Khattab
Kunya: Abu Ali al-Turki
Personal no.: 12000163941
Financial code: 10.1.0.1
Place of work: 33.215
This card valid for 3 months beginning from 3 Rabi' al-Awal 1438 AH
Specimen 39Z: Safety guarantee for Jurgen Todenhofer when he visited Islamic State lands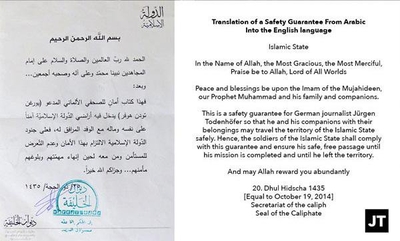 Specimen 40A: Shari'i exam for members of Jaysh al-Ghouta, Homs province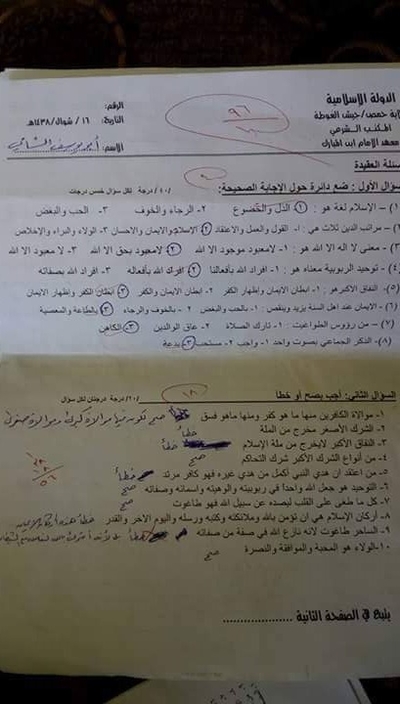 Specimen 40B: Form to submit a request to the wali, Raqqa province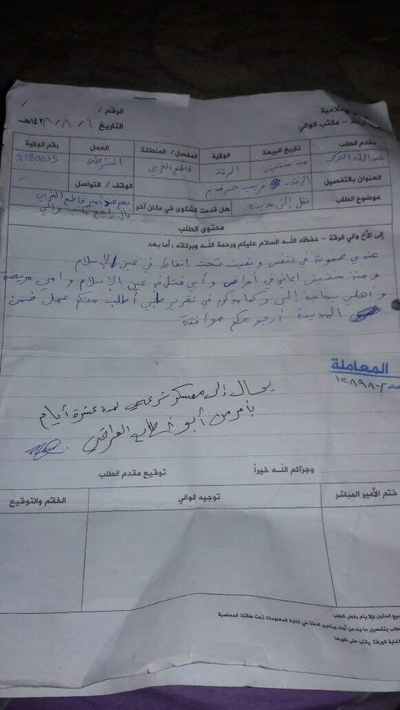 Islamic State
Wilayat al-Raqqa: Wali's office
No.
Date: 6 Sha'abba 1438 AH
Person submitting request: Abdullah Turki
Date of bay'a: 2 years ago
Sector/area: Western area
Work: Police
Wilaya number: 2180035
Address in detail: al-Raqqa: near old bridge
Phone/connection:
Subject of request: transfer to city
Have you submitted the complaint in another place? Yes, with the amir of the western sector, he said go to the wali's office.
Contents of the request
To the brother the wali of Raqqa, may God protect him: as-salam alaykum wa rahmat Allah wa barakatuhu:
I have difficulty breathing as I remained under ruins in Ayn al-Islam and for two years I have been suffering illnesses. My father was killed in Ayn al-Islam, my mother is ill, and my family need [?] mentioned in a medical report. I request from you to work in the city. I ask you to agree.
May God reward you best
Signature of one submitting request
Stamp of direct amir
Wali's directive
Stamp and signature
[Presumably wali's response]: he is to be referred to a Shari'i camp for 10 days by order of Abu Khabat al-Iraqi.
Specimen 40C: Medical report for Abdullah al-Turki (companion to 40B)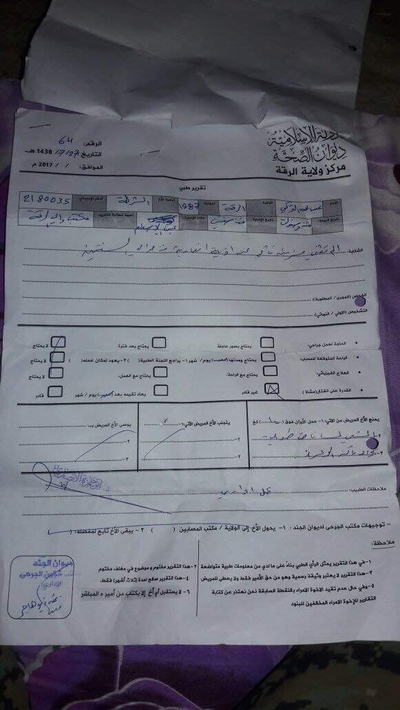 Specimen 40D: Contract for sale of a car, Raqqa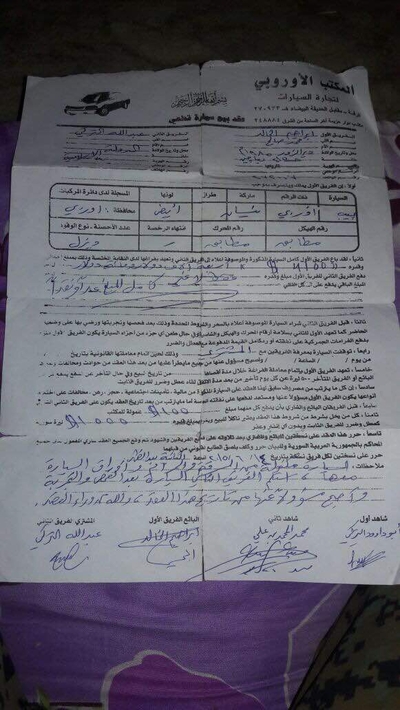 NB: Not an Islamic State document per se but an example of companies functioning in IS territory
Specimen 40E: ID card for admin official, Diwan al-Da'wa wa al-Masajid, Ninawa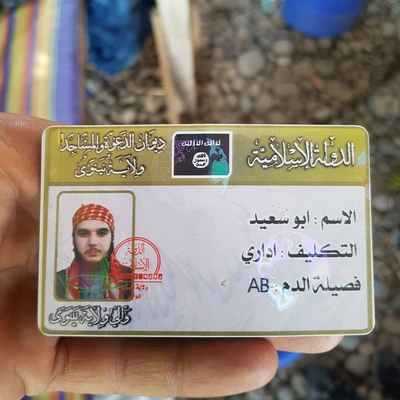 Specimen 40F: Zakat form, Tel Afar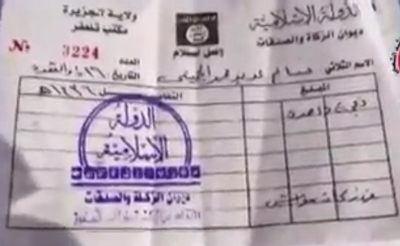 Specimen 40G: Card for patient, Tel Abta, Wilayat al-Jazeera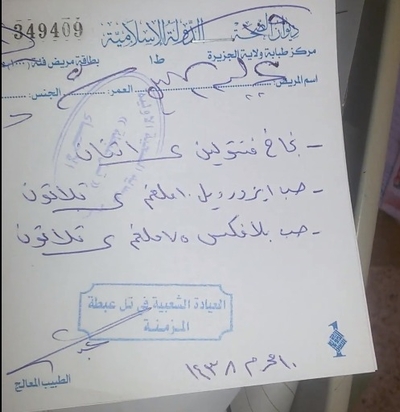 Specimen 40H: Medicines for chronic conditions, Tel Abta, WIlayat al-Jazeera (July 2016)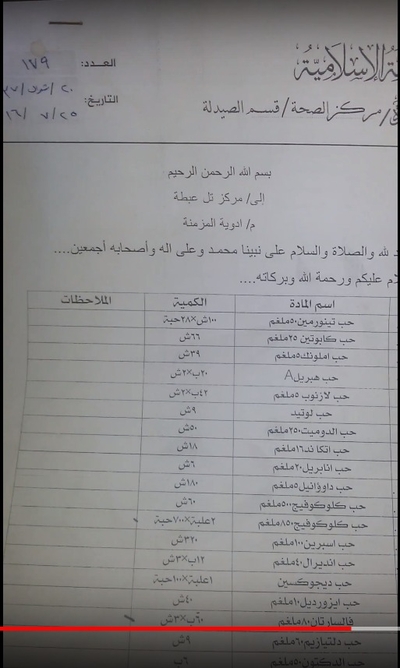 Specimen 40I: Graduation certificate from training camp in Ninawa province (April 2015)

Specimen 40J: ID card for a car, Diwan al-Jund

NB: The car is a Kia of white colour, 2010 model, running on petrol and belonging to the Islamic State.