This post constitutes a continuation of the previous posts that comprise the archive of Islamic State administrative documents (cf. here and here) and cannot be expanded further owing to technical issues. Thus, this post begins with Specimen 23A, constituting the 599th specimen in the archives.
Specimen 23A: Return form, office of the affairs of the mujahideen, Shirqat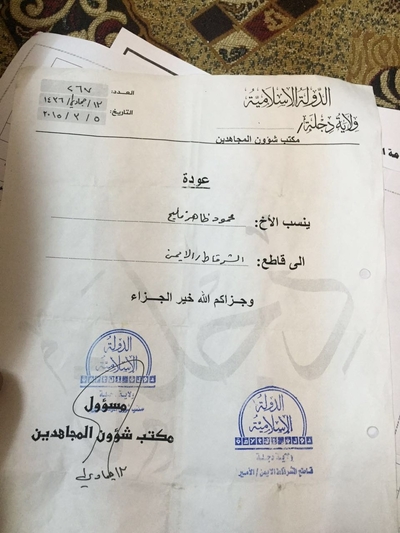 Islamic State
Wilayat Dijla/Office of the affairs of the mujahideen
No. 267
Date: 13 Jumada alAwal 1436 AH/5 March 2015 CE
Return
The brother […] belongs to the sector of Shirqat/right side [western Shirqat]
May God reward you best.
Official of the office of the affairs of the mujahideen
Islamic State
Wilayat Dijla
Office of the affairs of the mujahideen
Islamic State
Wilayat Dijla
Shirqat sector right side/Amir
Specimen 23B: Detainees list, Shirqat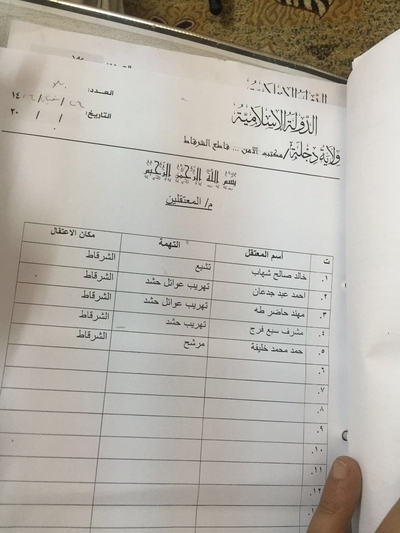 Islamic State
Wilayat Dijla
Security office/Shirqat area
No.
Date: 26 Sha'aban 1436 AH
In the name of God, the Compassionate, the Merciful
Subject: detainees
| | | | |
| --- | --- | --- | --- |
| No. | Detainee's name | Accusation | Place of arrest |
| 1 | Khalid Saleh Shahab | Adherence to Shi'ism | Shirqat |
| 2 | Ahmad Abd Jad'an | Smuggling out families of Hashd | Shirqat |
| 3 | Muhannad Hadhir Taha | Smuggling out families of Hashd | Shirqat |
| 4 | Musharraf Sab'a Faraj | Smuggling out Hashd | Shirqat |
| 5 | Hamad Muhammad Khalifa | [Parliament] candidate | Shirqat |
Specimen 23C: Another detainees list, Shirqat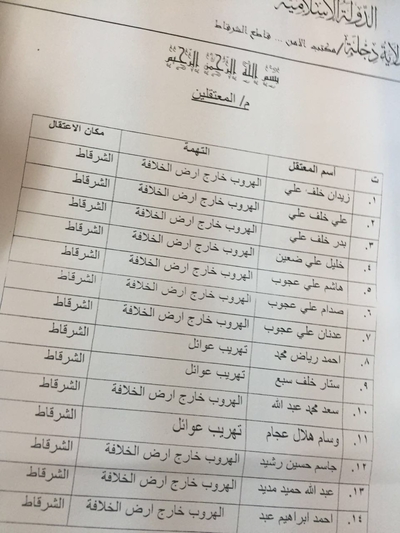 Islamic State
Wilayat Dijla
Security office/Shirqat area
[No.]
[Date.]
In the name of God, the Compassionate, the Merciful
Subject: detainees
| | | | |
| --- | --- | --- | --- |
| No. | Detainee's name | Accusation | Place of arrest |
| 1 | Zidan Khalaf Ali | Fleeing outside of the land of the Caliphate | Shirqat |
| 2 | Ali Khalaf Ali | Fleeing outside of the land of the Caliphate | Shirqat |
| 3 | Badr Khalaf Ali | Fleeing outside of the land of the Caliphate | Shirqat |
| 4 | Khalil Ali Da'in | Fleeing outside of the land of the Caliphate | Shirqat |
| 5 | Hashim Ali Ajoub | Fleeing outside of the land of the Caliphate | Shirqat |
| 6 | Saddam Ali Ajoub | Fleeing outside of the land of the Caliphate | Shirqat |
| 7 | Adnan Ali Ajoub | Fleeing outside of the land of the Caliphate | Shirqat |
| 8 | Ahmad Riyadh Muhammad | Smuggling out families | Shirqat |
| 9 | Sattar Khalaf Saba' | Smuggling out families | Shirqat |
| 10 | Sa'ad Muhammad Abdullah | Fleeing outside of the land of the Caliphate | Shirqat |
| 11 | Wissam Hilal Ajam | Smuggling out families | Shirqat |
| 12 | Jasim Hussein Rashid | Fleeing outside of the land of the Caliphate | Shirqat |
| 13 | Abdullah Haid Radid | Fleeing outside of the land of the Caliphate | Shirqat |
| 14 | Ahmad Ibrahim Abd | Fleeing outside of the land of the Caliphate | Shirqat |